The camera offers a choice of "scene" modes. Choosing a scene mode automatically optimizes settings to suit the selected scene, making creative photography as simple as selecting a mode, framing a picture, and shooting.



 Portrait
Use for portraits with soft, natural-looking skin tones.



 Landscape
Use for vivid landscape shots in daylight.



 Child
Use for snapshots of children. Clothing and background details are vividly rendered, while skin tones remain soft and natural.



 Sports
Fast shutter speeds freeze motion for dynamic sports shots in which the main subject stands out clearly.



 Close up
Use for close-up shots of flowers, insects, and other small objects (a macro lens can be used to focus at very close ranges).



 Night Portrait
Use for a natural balance between the main subject and the background in portraits taken under low light.

 Night Landscape
Reduce noise and unnatural colors when photographing night landscapes, including street lighting and neon signs.



 Party/Indoor
Capture the effects of indoor background lighting. Use for parties and other indoor scenes.



 Beach/Snow
Capture the brightness of sunlit expanses of water, snow, or sand.



 Sunset
Preserves the deep hues seen in sunsets and sunrises.



 Dusk/Dawn
Preserves the colors seen in the weak natural light before dawn or after sunset.



 Pet Portrait
Use for portraits of active pets.



 Candlelight
For photographs taken by candlelight.



 Blossom
Use for fields of flowers, orchards in bloom, and other landscapes featuring expanses of blossoms.



 Autumn Colors
Captures the brilliant reds and yellows in autumn leaves.



 Food
Use for vivid photographs of food.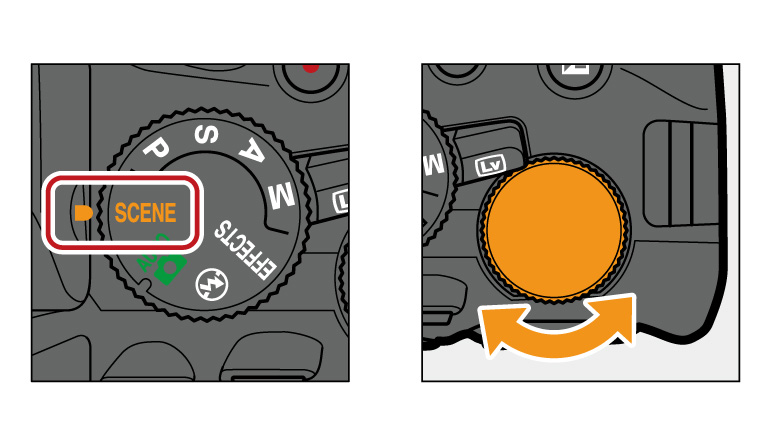 Rotate the mode dial to SCENE and rotating the command dial until the desired scene appears in the monitor.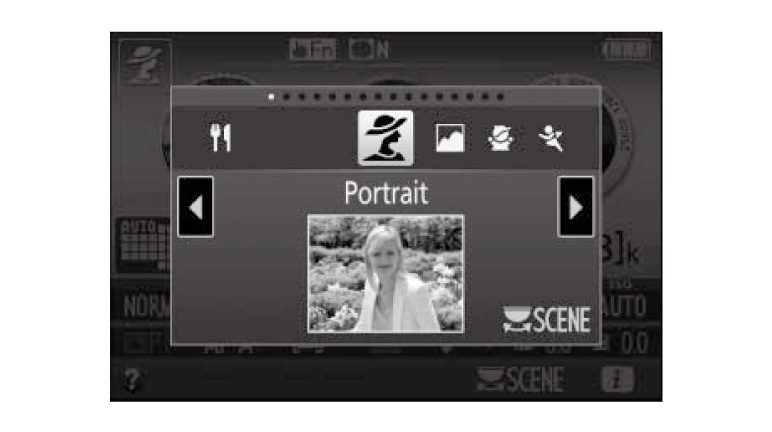 View information on functions related to Scene Mode.