Precautions
How to Use Binoculars
Never look at the sun directly through binoculars
Doing so may seriously damage your eyes.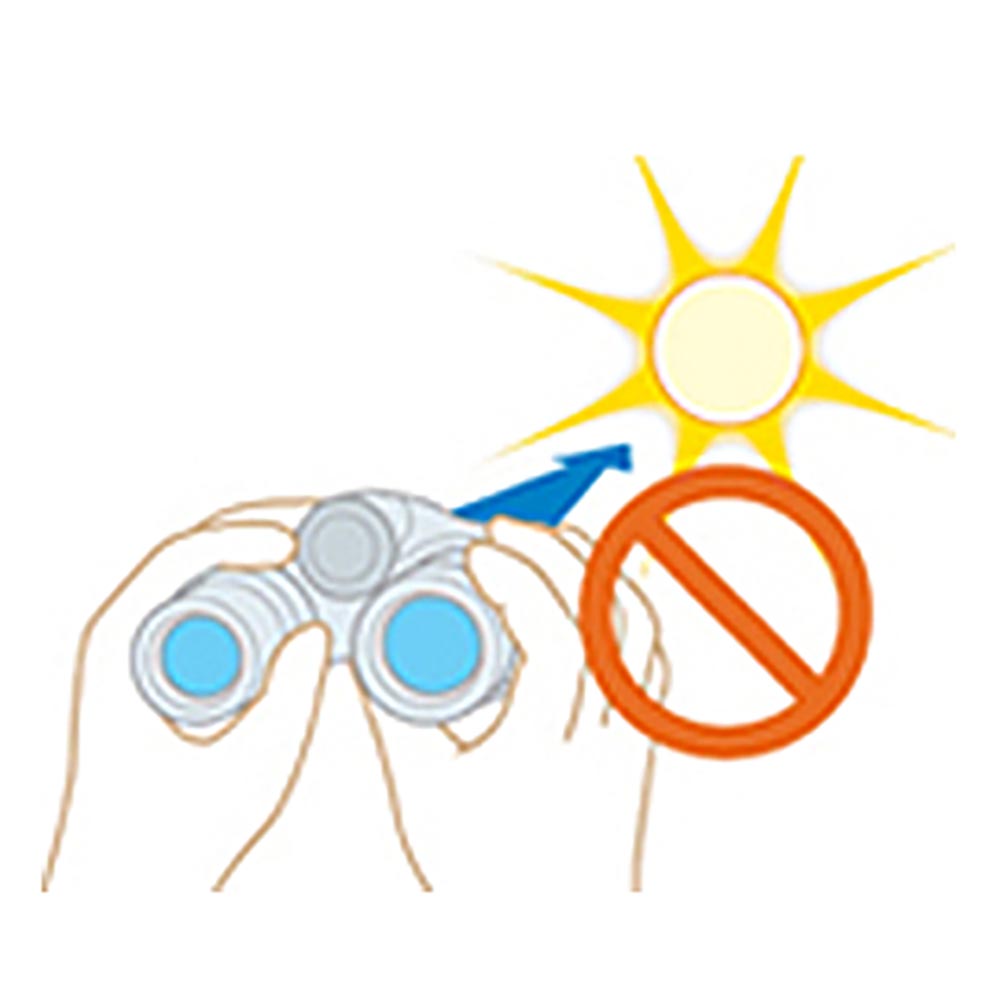 Do not leave binoculars in a car on a hot or sunny day, or near heat-generating equipment
This may damage or negatively affect them.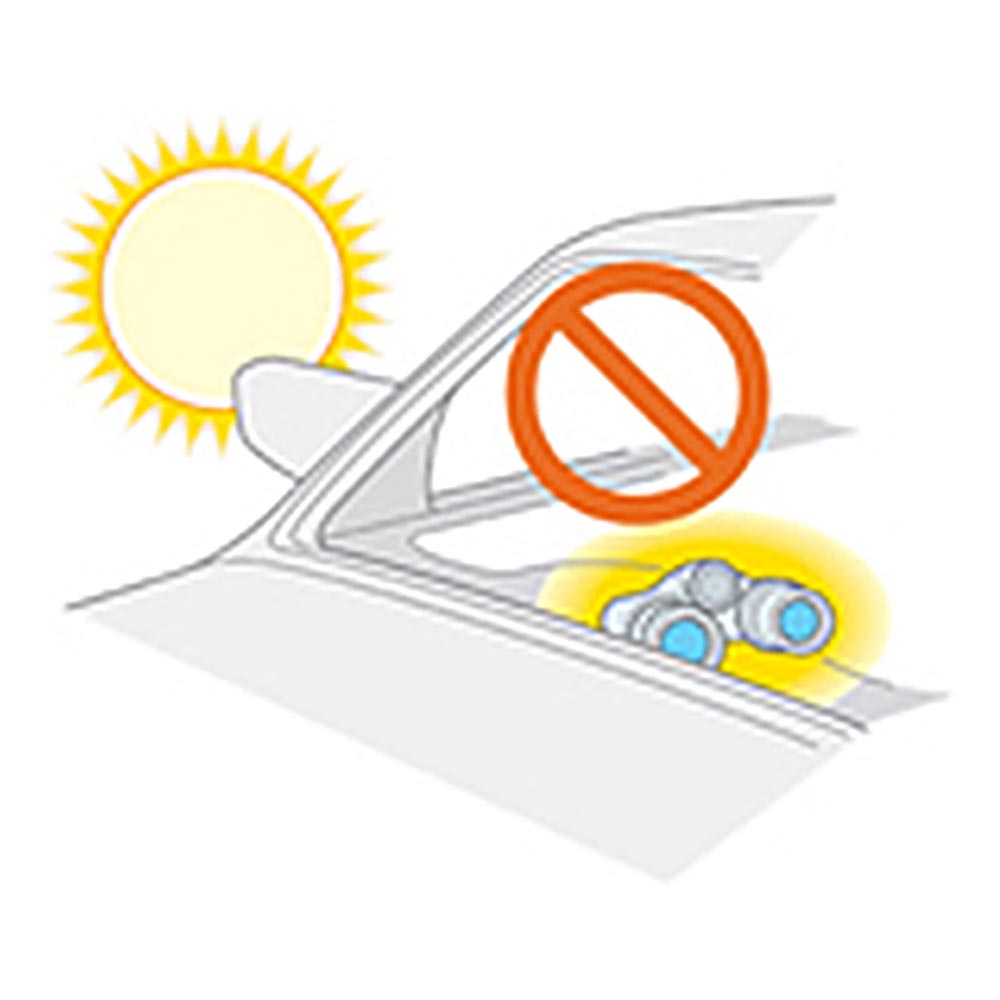 Avoid exposing binoculars to sudden temperature changes
When binoculars are exposed to sudden temperature changes, water condensation may occur on interior lens surfaces. In this case, thoroughly dry the binoculars naturally until no fog is visible. If the surface of the lens remains wet, lens quality may deteriorate.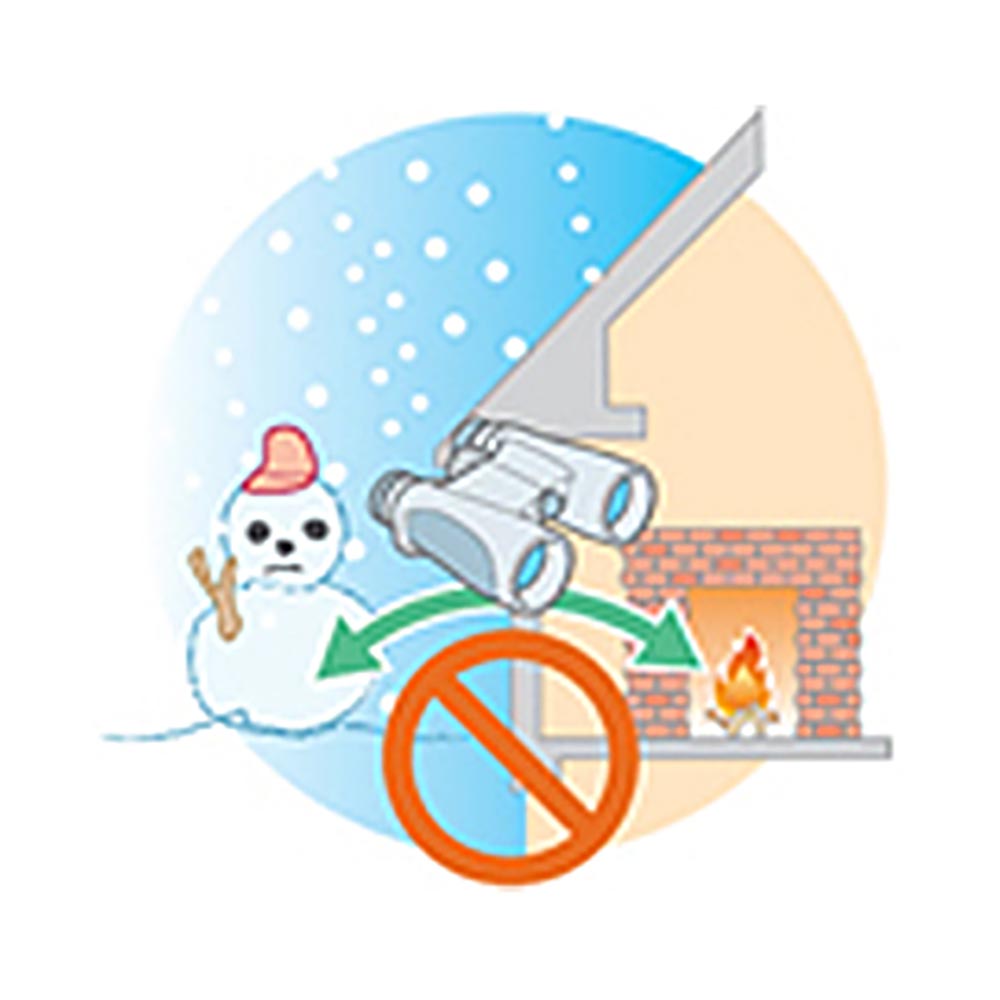 Do not soak binoculars in water
Binoculars cannot be used in water. Even if you have waterproof models, wipe off rain, dew or mist thoroughly with a dry cloth and dry for storage. If you accidentally drop the binoculars in water, pick them up as soon as possible. Wipe the water off with a dry cloth. Then immediately consult the shop where you purchased them.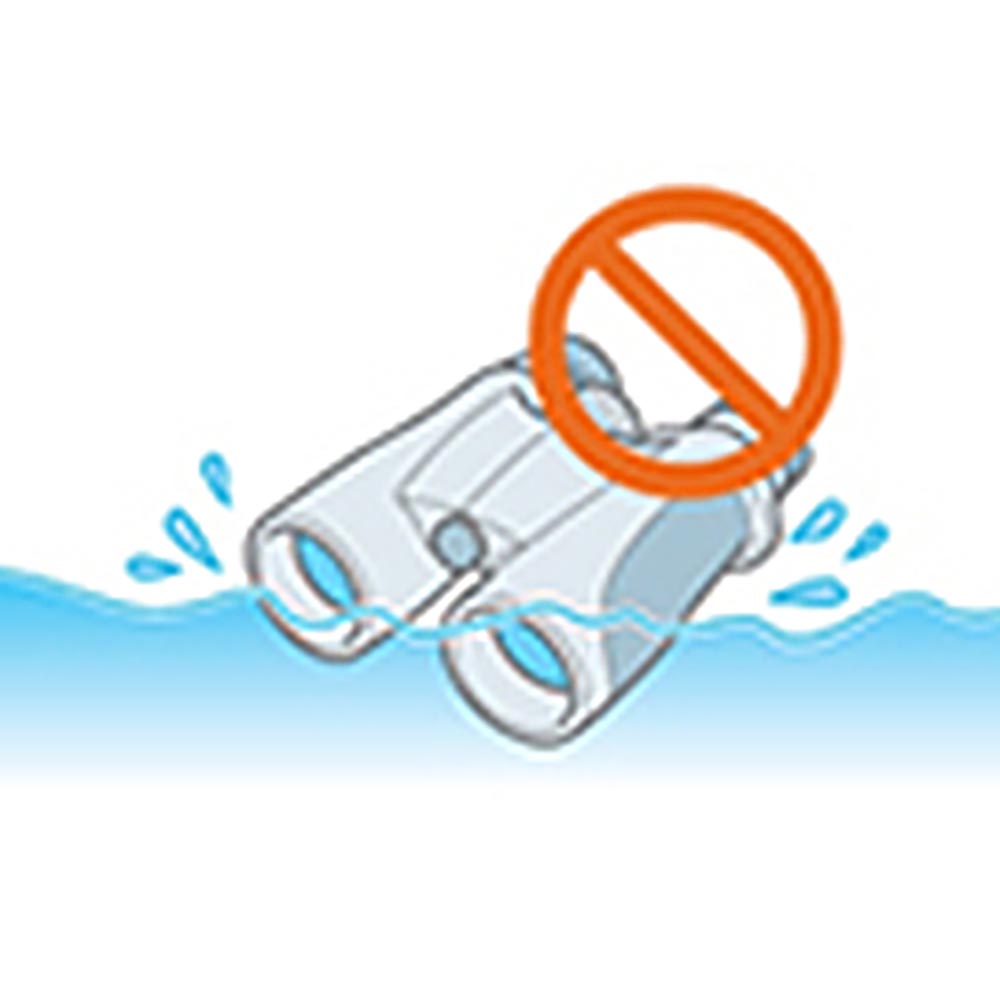 Do not try to adjust beyond limits
Be careful not to rotate the diopter adjustment ring, focusing ring and other movable parts of the binoculars' body beyond their limits.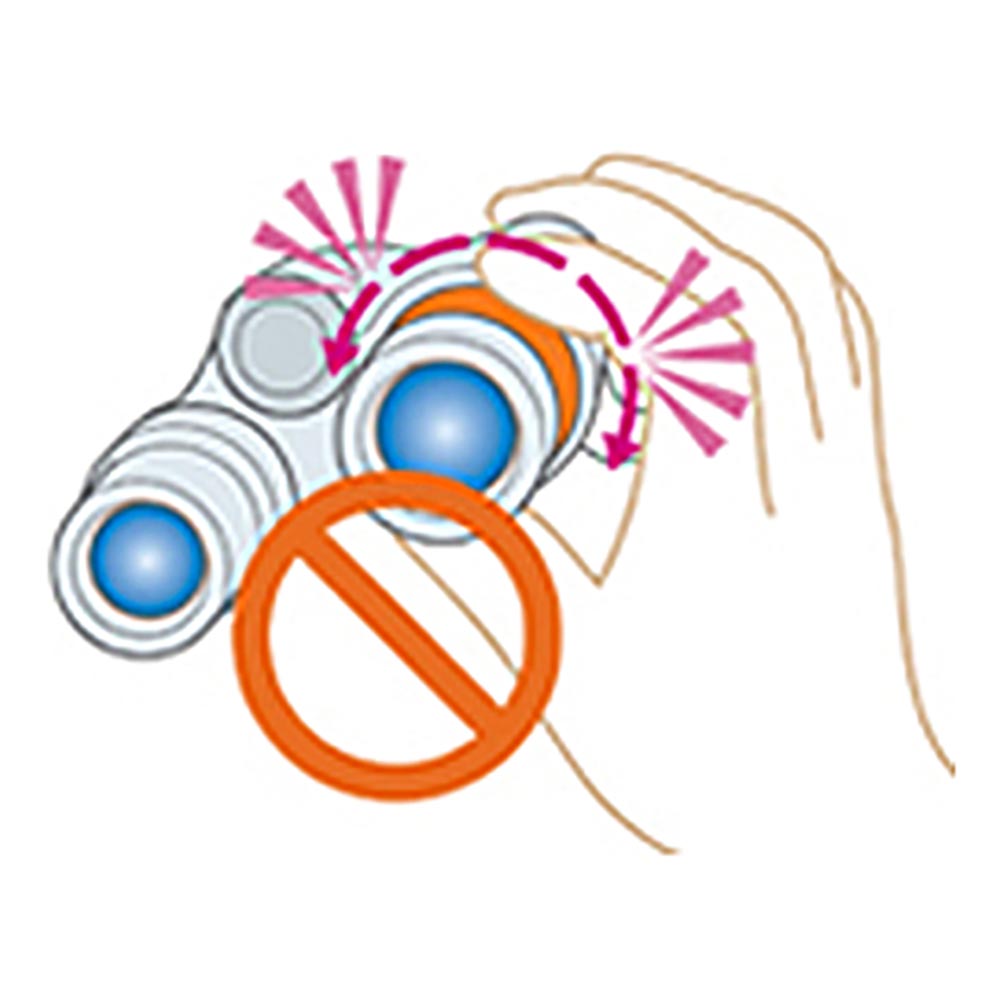 Always protect binoculars from shock
Do not subject binoculars to high impacts, drops or other hard blows which may badly affect their precisely designed optical axis.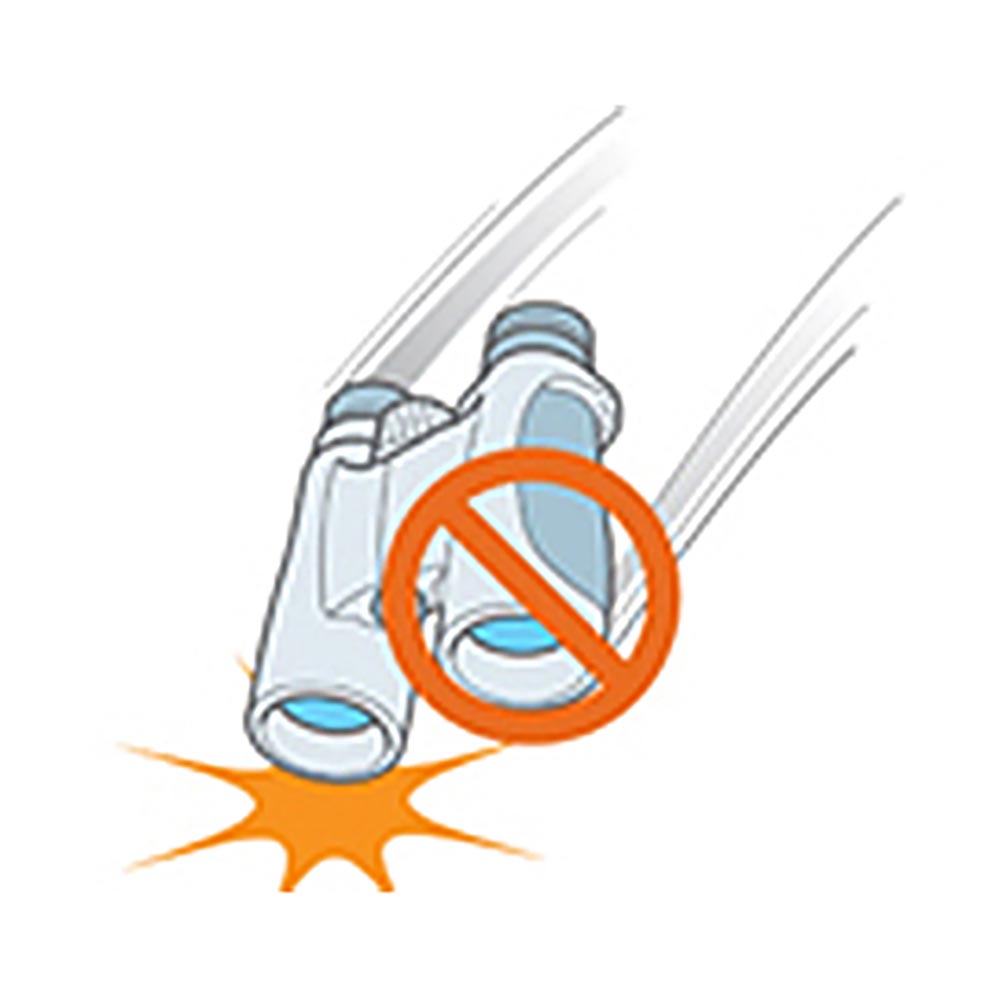 Maintenance & Storage
Cleaning

Remove any dust or sand that stains the lens surfaces with a soft oil-free brush. When removing stains or smudges such as fingerprints from lens surfaces, wipe lens very gently with quality oil-free lens tissue or a soft clean cotton cloth moistened with some absolute alcohol. We do not recommend using velvet cloth or ordinary tissue, as these may scratch the lens surface.

Storage

Avoid keeping binoculars in high humidity, high temperature and/or dusty areas. It is best to keep them in a plastic bag or an airtight container with a desiccant. If this is not possible, do not store the binoculars in the supplied case, because they are easily affected by moisture.

Preventing mold

In high humidity, water condensation or mold can accumulate on lens surfaces. If binoculars get wet, wipe them off with a dry cloth and store them in a cool, dry place. Be careful not to keep binoculars in the case all the time, otherwise mold may easily gather on them.

Waterproof models

Waterproof models are so airtight that using them under severe conditions (such as rain, splashing water, high humidity and dusty areas) will not damage their internal structure, and they are not likely to be afflicted by mold. If binoculars become wet with sea water or muddy water, immediately rinse and thoroughly wipe off their exterior. (Be especially careful to avoid letting wet binoculars dry naturally, otherwise the quality of their lens surfaces may change.) Nikon recommends regular servicing by an authorized dealer to keep your waterproof binoculars in the best condition.