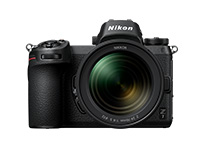 Tips and Tricks
Learn how to ready the camera and adjust camera settings. This is your chance to master the art of capturing those precious moments with your Z 7 and Z 6.
View Tips and Tricks

Camera Functions
This section introduces useful camera controls and functions. Master your Z 7 and Z 6.
View Camera Functions
Notices
See the online help (
Z 7/Z 6 Online Manual

) or the camera manual for detailed instructions.
The information on this page assumes camera settings are at their default values.
Sample images are provided for illustrative purposes only to explain functions.
The cameras used in these videos include the Z 5 and Z 50.
Camera Functions
This section uses sample images to illustrate camera functions and describes how they are used.