SB-300
Key Features
Bouncing the light for beautiful indoor images
Pictures can appear very different and achieve various expressions depending on how you manipulate the light. But lighting a shot is not at all difficult with the SB-300 Speedlight. Its flash head can be set up to 120 degrees upward allowing you to bounce light off ceiling or wall to endow a softer, more natural look to your subject. You can easily control the lighting to capture a beautiful indoor portrait creatively.
Compact and lightweight design for great portability
With its compact and lightweight design, comfortable portability is ensured even when attached to a camera. The SB-300 is certain to expand your enjoyment of shooting pictures in a variety of scenes.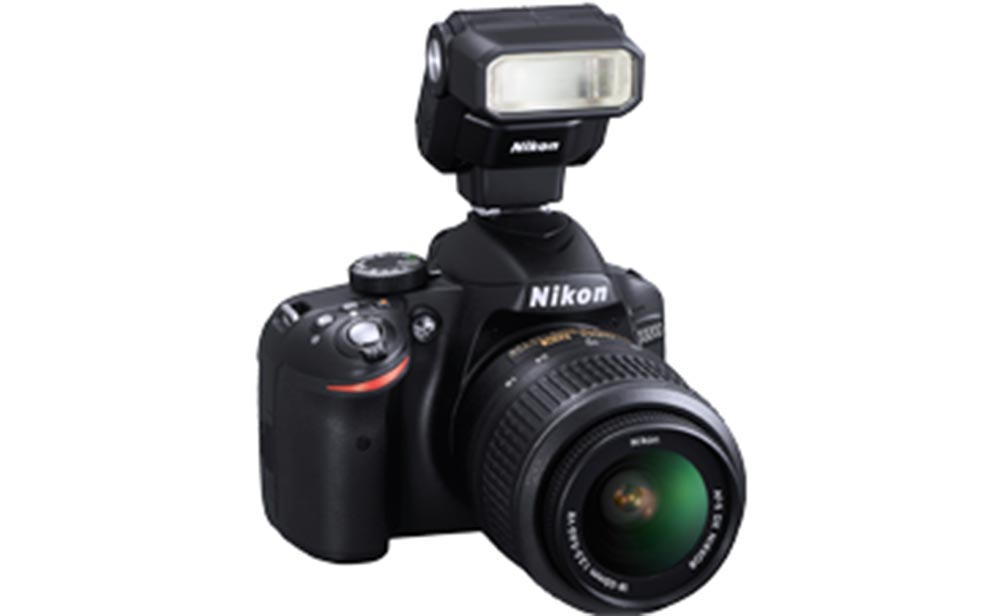 Easy operation even for novices
Attach the SB-300 to a camera supporting Nikon Creative Lighting System (CLS) or a COOLPIX model supporting i-TTL flash control, and switch the power on. This is all you have to do to enjoy flash photography. Thanks to Nikon's highly accurate i-TTL flash, the amount of light output is automatically and appropriately controlled, achieving high-quality flash shots reliably.
*

Advanced Wireless Lighting is not supported.
Compatible with readily available AAA-size batteries
The SB-300 uses two AAA-size alkaline or NiMH batteries which are readily available anywhere, so you'll never run out of power.
Specifications
Swipe horizontally to view full table.
Electronic construction

Automatic Insulated Gate Bipolar Transistor (IGBT) and series circuitry

Guide number (20°C/68°F)

18/59 (ISO 100, m/ft)

Angle of coverage

Covers angle of view of 27 mm lens (FX format) or 18 mm lens (DX format)

Effective flash range (i-TTL)

0.6 m to 20 m (2 ft to 66 ft); varies with ISO sensitivity, bounce angle, and aperture

Options available using camera controls

Flash control mode: i-TTL, manual

Flash mode: Fill flash (front-curtain sync), front-curtain with slow sync, rear- curtain sync, and rear-curtain with slow sync

Bounce angle

Flash rotates vertically up to 120° with stops where the flash is pointing directly ahead and at 60°, 75°, 90°, and 120°

Device on/off

Power switch used to turn SB-300 on and off

Power source

Two AAA alkaline or NiMH batteries

Flash-ready light

Charging complete: Lights

Warning: Blinks

Flash duration

Lights for about 1/1650 s when fired at full power

Batter endurance and flash recycling time*1

Battery type

Minimum recycling time*2

Endurance*3/recycling time*2

Alkaline

Approx. 4.0 s

70 or more uses/4.0-30 s

NiMH

Approx. 3.5 s

110 or more uses/3.5-30 s

Mounting foot lock lever

Locking pin prevents accidental detachment

Other options

Thermal cut-out, firmware update*4

Dimensions (W x H x D)

Approx. 57.4 x 65.4 x 62.3 mm (2.3 x 2.6 x 2.5 in.)

Weight

Approx. 120 g (4.2 oz), including two AAA alkaline batteries

Approx. 97 g (3.4 oz), body only

Supplied accessories

Soft Case SS-DC1
*1

Figures are for fresh batteries; actual results may vary with performance and other factors even among batteries of identical ages and makes.

*2

Time between flash firing at full power and flash-ready light illuminating when flash is fired once every 30 s.

*3

Number of times flash can be fired at full power with flash-ready light illuminating within 30 s.

*4

Firmware can be updated from camera.