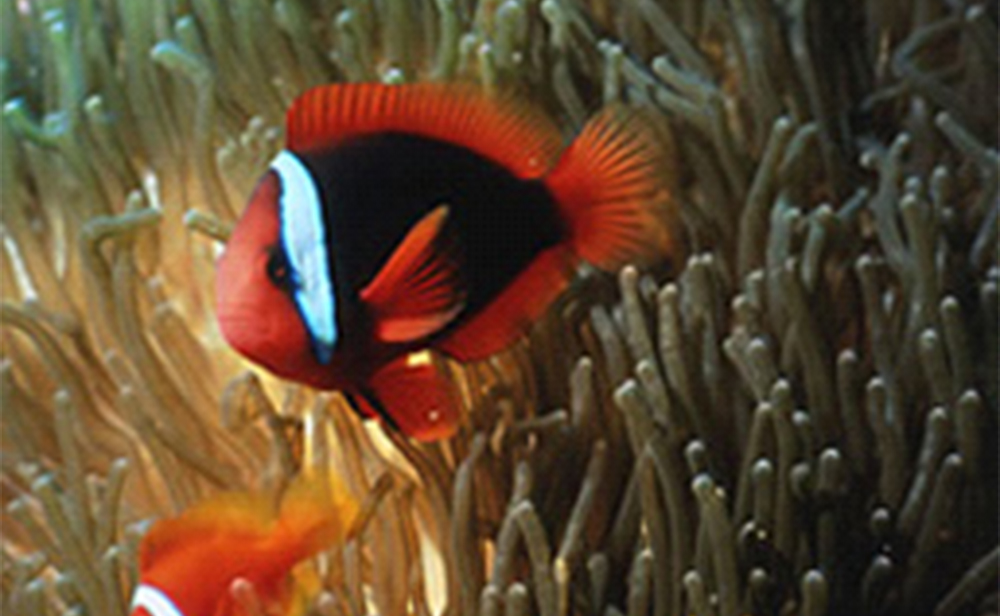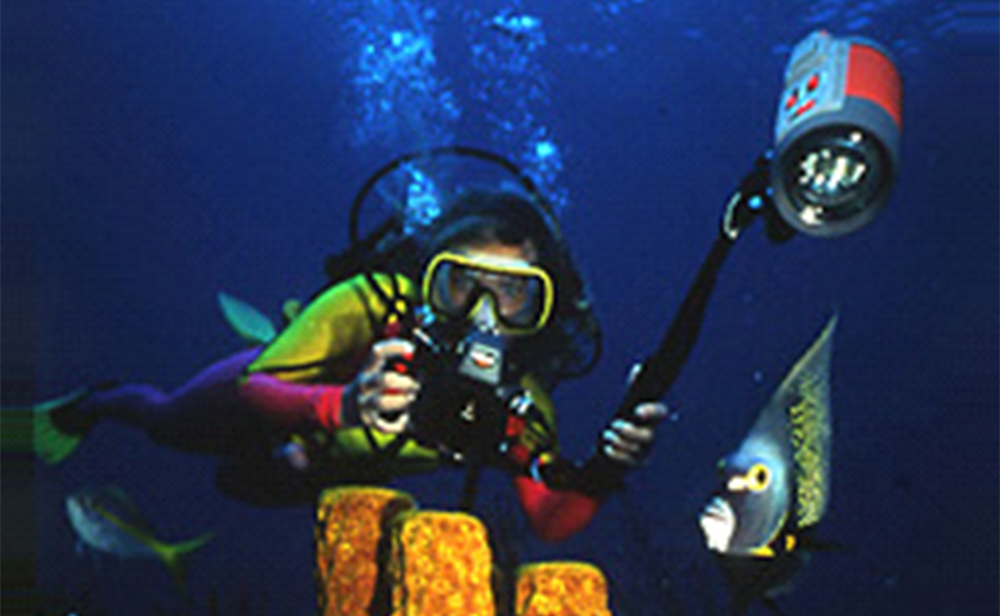 Key Features of NIKONOS RS AF
1. World's first underwater Auto-Focus SLR camera
In the NIKONOS series, focusing involved the manual setting of the distance measured visually, even though the RS implemented accurate focusing based on an automatic focusing system simply by pressing the shutter release button halfway down, similarly to typical land-use AF SLR cameras. This facilitated taking close-up shots with Auto Focusing, which conventionally had been difficult to do. In addition, as the SLR camera permits checking the images through the lenses, this model ensured more accurate framing compared to conventional framing through the direct optical viewfinder. Moreover, the viewfinder with a high eye point relief of 60 mm and a parallax of approx. 9 degrees made viewing easier even when wearing an underwater mask, therefore it was highly valued.
2. Matrix Metering
In Matrix Metering, a finder image is separated into five (5) segments and the brightness in the individual segments is comprehensively evaluated to provide the optimum exposure value. This Matrix Metering system resulted in photographic images similar to those perceived by the eye, even in backlit or complicated lighting conditions. In addition, the Matrix Metering could be switched to center-weighted metering as necessary.
3. Aperture-priority AE and manual exposure control
This model was equipped with both exposure control capabilities: aperture-priority AE to allow automatic control of shutter speeds simply by selecting an f-stop number on the aperture ring of camera, and manual exposure control to allow manual control of aperture and shutter speed.
4. Water pressure resistant up to a depth of 100 m
The conventional NIKONOS series models were designed to remain watertight up to a maximum depth of 50 m, but the RS was capable of taking photographs at a water depth of 100 m, which made this model more reliable.
5. Ultimate simplicity of operation
The model allowed selection of aperture, shutter speed, exposure compensation and shooting mode with the respective dials on the top of the body. In addition, with the adoption of the automatic focusing system, manual focusing with motor-driven power focusing was available simply by turning the focusing knob clockwise or counterclockwise. The lens range marker and frame counter were equipped with LED illumination to improve visibility. Moreover, easy film loading and automatic film wind-up and rewind were added. All basic settings could be done with the left hand, and the profile of the body was based on a form seeking ultimate simplicity of operation. Furthermore, the exterior design had a real presence; in the hands of Giorgetto Giugiaro, the famous Italian car and industrial designer, the body was shaped into a coherent design from body to lens and Speedlight, including the color ring, providing a quite different image from that of predecessor underwater cameras.
6. Unique compatible lenses
Four compatible lenses were made available, R-UW AF Nikkor 28 mm F2.8 (98,000 yen), R-UW AF Micro Nikkor 50 mm f/2.8 (165,000 yen), R-UW AF Zoom-Nikkor 20 - 35 mm f/2.8 (410,000 yen), and R-UW AF Fisheye Nikkor 28 mm f/2.8 (240,000 yen). The fisheye lens, zoom lens, and other unique lenses, which were not available in the lineup of conventional lenses for underwater photography till then, contributed to expand photographic expressions. The RS adopted the specifically designed R-UW lens mount.
7. Multi-function Speedlight
The multi-function underwater Speedlight SB-104 was also made available with a high-intensity flashlight, an illuminating angle of 100 degrees, and water tightness to a depth of 100 m. It permitted Matrix Balanced Full-Flash speedlight control when used with the concurrently released RS, and the flash remote, slave sensor and slave mode to trigger it with another strobe, and many other features gained considerable popularity.
Specifications of NIKONOS RS AF
Type of camera
Electronically controlled motor driven 35 mm focal-plane shutter AF SLR underwater camera
Depth at which it is water pressure-resistant
100 m
Lens mount
NIKONOS R-UW mount
Compatible lens
R-UWAF Nikkor lens (Dedicated AF lens for underwater NIKONOS RS camera)
Viewfinder
High eye-point action type (Offset angle approx. 9°)
Eye point: Approx. 60 mm
Focusing screen: Dedicated B type
(Clear matte screen II; focus frame provided; not interchangeable)
Finder coverage approx. 92%; Approx. 0.39x magnification (in the water, with use of 28 mm lens, at infinity (∞))
Focus mode
Single AF Servo (S), Continuous AF Servo (C), Power Focus (P), Focus Priority (F)
Auto focus detection system and range
Type: TTL phase difference detecting method
Detection system: Nikon Advanced AM200 autofocus module
Detection range: EV minus (-) 1 to 19 (ISO 100); Focus Tracking with Lock-On when a moving subject is detected (in Continuous-Servo autofocus mode)
AF lock: Available in Single-Servo autofocus mode
Exposure metering
Type: TTL exposure metering at open aperture; Aperture-priority auto (A) mode: 5-segments Matrix metering
Manual mode: Center-weighted metering
Metering range: EV 3 to 20 (ISO 100)
Exposure control
Aperture-priority auto (A) and manual (M)
Exposure compensation
Within ±2EV in 1/3 EV step
Aperture control
Aperture synchronized lever provided on the body (F2.8 to F22)
Film speed range
ISO 25 to 5000 for DX-coded film
Manual film speed setting
ISO 6 to 6400
Film loading
Forward easy loading; Film automatically advances to first frame when shutter release button is depressed once after film loading: stops automatically
Film advance
Film automatically advances one frame due to the built-in motor when shutter is released
Frame counter
Direct-reading counter of automatic reset and additive type; counts back while film is rewinding; illuminated by LED
Film rewind
Automatic film rewind due to the built-in motor when film rewind lever is turned; approx. 25 sec. per 36-exposure roll; stops automatically when film is rewound
Shutter
Type: Electronically controlled vertical-travel focal-plane shutter
Shutter speed
From 1/2000 sec. to 1 sec.; B setting available
Flash sync.
Contact: X-sync only (semiconductor type)
Flash sync. control
1/125 sec. or slower speeds (shutter is automatically set to 1/125 sec. when set between 1/250 sec. and 1/2000 sec. with SB-105, 104, 103, or 102)
Speedlight control
Type: TTL automatic flash sync. control (when used with SB-105, 104, 103 or 102)
Flash sync. control
Matrix Balanced Full-Flash. (in aperture-priority auto (A) mode) /TTL sync. (in manual exposure mode)
Sync. mode
Selective between front-curtain sync and rear-curtain sync (selected via switch inside body)
Camera back
Hinged type double camera back design with inner camera door (not dismantled); inner camera back provided with film checking window
Power source
One 6 V lithium battery pack (DL223A or CR-P2 type)
Power source switch
Power source is set ON when shutter dial is at any setting other than L, and shutter release button is half-pressed (Power source is automatically set OFF approx. 16 sec. after shutter release button is released)
Battery check
Possible when shutter speed/mode selector dial is at any setting other than L, shutter release button is half-pressed, and shutter release button is released; LED blinks for approx. 16 sec. to indicate correct battery installation and sufficient battery power; LED goes off immediately to indicate battery power is exhausted; All displays blink or fail to light up to indicate the necessity of battery replacement.
Dimensions (W x H x D)
Approx. 196 x 151 mm x 85 mm (Body alone)
Weight (on land)
Approx. 2,130 g (Body alone, without the batteries)