Electronic SLR cameras and lower-price models
Production of single-lens reflex (SLR) cameras in Japan reached the 7.56 million mark in 1980 from the 2.76 million mark in 1974, having reached the peak of its popularity. (Fig. 6-5).
This was the result of the SLR cameras becoming increasingly electronized, so that they were coming out with varied exposure control options, improved ease of operation for photography with the program AE (automatic exposure control), reduced size and lower prices.
Electronic SLR cameras became popular around 1965 with the introduction of electronic shutters for automatic exposure control. The circuit configuration was initially a small-scale analog design. Around 1975, digital control became available with a large-scale circuit configuration with a microcomputer to allow shutter control using a crystal oscillator (quartz).
The downsizing of SLR cameras accelerated from 1975 onwards with the emergence in 1973 of compact and lightweight 135-format SLR cameras weighing 470 g.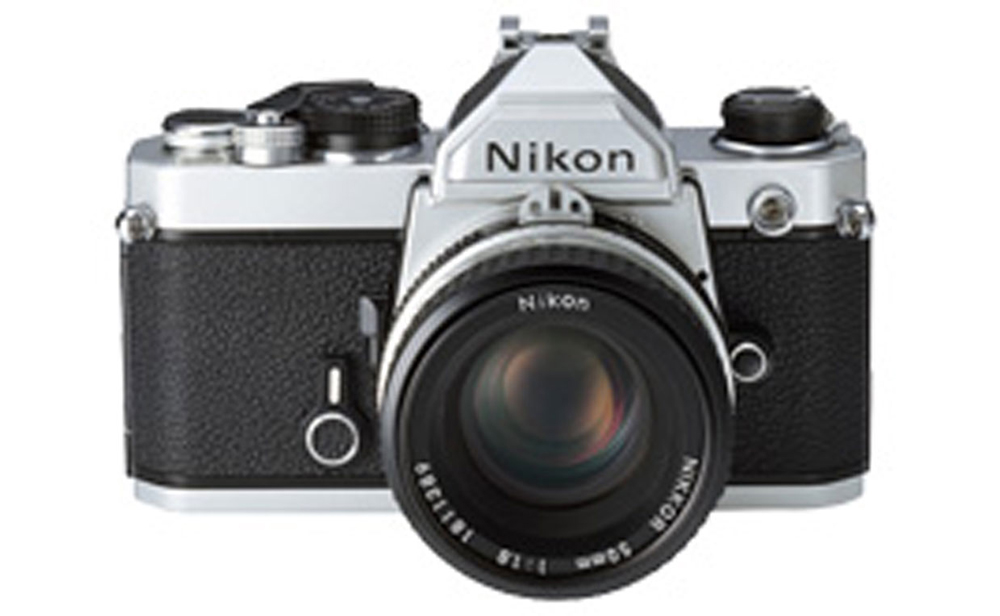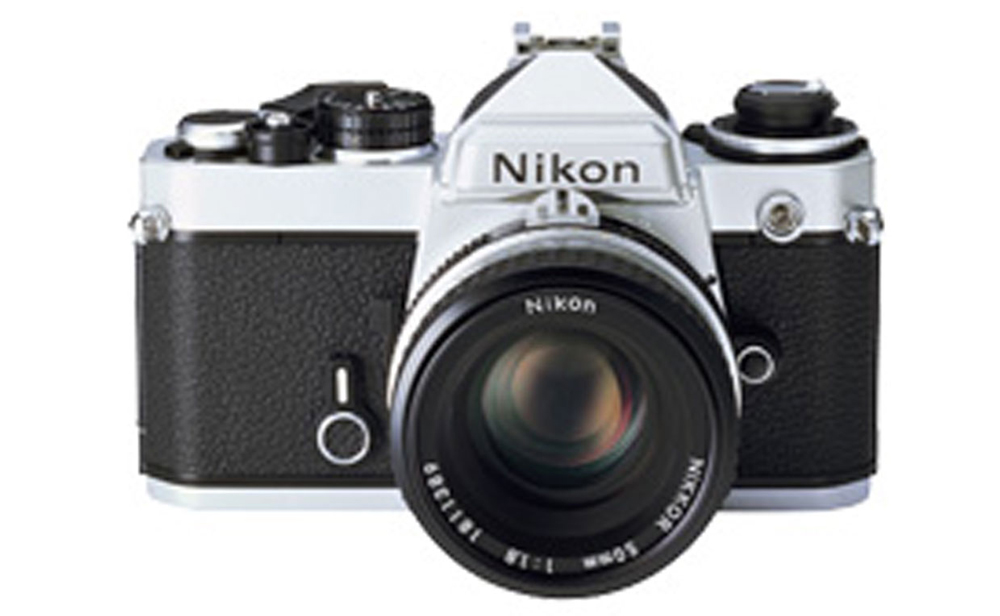 Specifications of Nikon FE
Type
Electronically controlled 35 mm single-reflex lens focal-plane shutter camera
Exposure control
A (aperture-priority automatic) and Manual
Focusing screen
Split micro design (K type), interchangeable with B / E types
Metering system
TTL center-weighted full-aperture metering,
Metering range EV1 to 18 with ASA/ISO 100 film
Film speed setting ASA/ISO 12 to 4,000
Exposure compensation range
+2 to -2EV
Exposure lock (AE lock)
Available with self-timer lever
Shutter
Automatic: 8 to 1/1,000 sec. (step-less), Manual: B and M90 (1/90 sec.), 8 to 1/1,000 sec. (16 steps), For B and M90, mechanical shutter speed selection
Flash sync
X setting only, built-in ready-light for use with the optional Speedlight unit synchronized at 1/125 sec. or less
Dimensions & Weight
(Approx.) 142x89.5x57.5 mm; 590 g (body alone)
Such a series of model lineups helped increase the number of Nikon fans and as a result, the sales of Nikon products doubled to 74 billion yen in FY 1980 from 36.4 billion yen in FY 1974.
Development of Nikon F3
Once the production of Nikon F2 (1971) was put on track, the designer team got down to product concept for the next-generation flagship model, later known Nikon F3.
The Nikon F2 adopted the electronic circuits for exposure control and other mechanisms, though the shutter was the mechanically controlled, which had gained the absolute trust of professional photographers.
However, based on the concept that "without introduction of electronic technologies, only so much can be accomplished in terms of developing multifunctional cameras and at the same time further enhancing reliability", we cast aside the then prevailing concept that high-end single-lens reflex cameras should be manual (for exposure control), and decided to develop an electronically controlled shutter for the next-generation flagship model by applying the electronic technologies which had been demonstrated to be sufficiently reliable in the development of Nikomat EL, to the mechanical design of Nikon F2 as possible.
This was backed up by our confidence that even the professional photographers who had been distrustful of electronically controlled cameras, would favorably receive any highly reliable, multifunctional flagship model, if we could implement it successfully.
In addition, one of the key features of the Nikon F3 included the motor drive, which had been designed based on the concept that it was not an accessory but rather it was considered an integral part of the camera. The motor drive speed increased to 6 frames/sec. from 4 frames/sec. in the Nikon F2, to satisfy the requests by professional photographers. This enhancement was implemented free from any voltage increase with the adoption of a coreless motor, and thanks to the increased efficiency of the gear train for the film winding system and the resultant reduced load on the motor. An additional provision was also made for noise reduction.
The development of electronic Nikon F3 was started , using only analog circuits. However, the information volume to be processed was too large for handling by the analog ICs (integrated circuits) of the existing level. Then, the direction was reversed and the display circuit was to be digitized. We planned to adopt the liquid crystal (display element) for reduced power consumption than the LED (light emission diode) which was commonly used for cameras in those days. The liquid crystal (LC) had been put into practical application only for a few years for watches and other some articles, though we decided to adopt the LC after due consideration to durability.
It was in March 1977 when the design was started formally after the product conception and organization of the prototype through integration of trial-manufactured parts.
The design philosophy consisted of implementing three objectives, 1) high quality and high reliability, 2) ease of operation and versatility, and 3) automatic operation, on the basis of the inherited philosophy of F2. In addition, electronically control capabilities and energy saving facilities were included.
For the F3 shutter, a modular design of our original horizontal-travel titanium foil shutter was selected. In the first year, a thorough analysis was carried out on the accuracy and durability of the shutter to ensure adequate mechanical reliability. During the process, a governor was developed that automatically allows precise adjustment of shutter operation electrically for improved efficiency of assembling operation.
For F3, the VE (value engineering) methodology was applied to reduce the weight and the number of component parts used, and a prototype was completed in November 1978.
Specifications of Nikon F3
Type
Electronically controlled 35 mm single-lens reflex (SLR) focal-plane shutter camera
Exposure control
A (aperture-priority automatic), Manual
Viewfinder
Eye-level finder DE-2 as standard, interchangeable with 3 other types
Split micro design (Type K) of focusing screen provided as standard, interchangeable with 19 other types
Metering system
TTL center-weighted full-aperture metering
Metering range: EV 1 to 18 with ASA/ISO 100 film
Film speed setting: ASA/ISO 12 to 6,400
Shutter
Automatic: From 8 to 1/2,000 sec. (step-less),
Manual: 8 to 1/2,000 sec. (18 steps) including T, B and X (1/80 sec.)
Mechanical shutter at T, Mechanical setting (1/60 sec. or T) available with the backup mechanical release lever when batteries become weak or exhausted
Flash sync
X setting only, Speedlight unit synchronized at X (1/80 sec.) or less
TTL automatic flash exposure control available with the dedicated Speedlight SB-12 or SB-11 (with use of TTL flash exposure control cord SC-12)
Dimensions & Weight
(Approx.) 148.5 x 96.5 x 65.5 mm; 700 g (body alone)
The 1.55V G13 silver oxide battery (currently known as SR44 silver battery) was not available for backup in some districts in those days. Then, in order to prevent a shooting block due to depleted batteries, the mechanical control shutter speed of 1/60 sec. remained available.
The flagship electronic SLR camera F3 introduced by our designer team based on the foresight and technical know-how was favorably received also by professional photographers from the very beginning of release and sold well. In March 1982, Nikon F3 High-Eyepoint furnished with the high-eyepoint finder DE-3 as standard was added to the lineup, and the total sales volume exceeded 751,000 (as of September 1992).
In 2000, discontinuance of the production was announced.
For the Nikon F2 Series, the production was discontinued in June 1980, with a total production of the 816,000 units.
Incorporation of high technology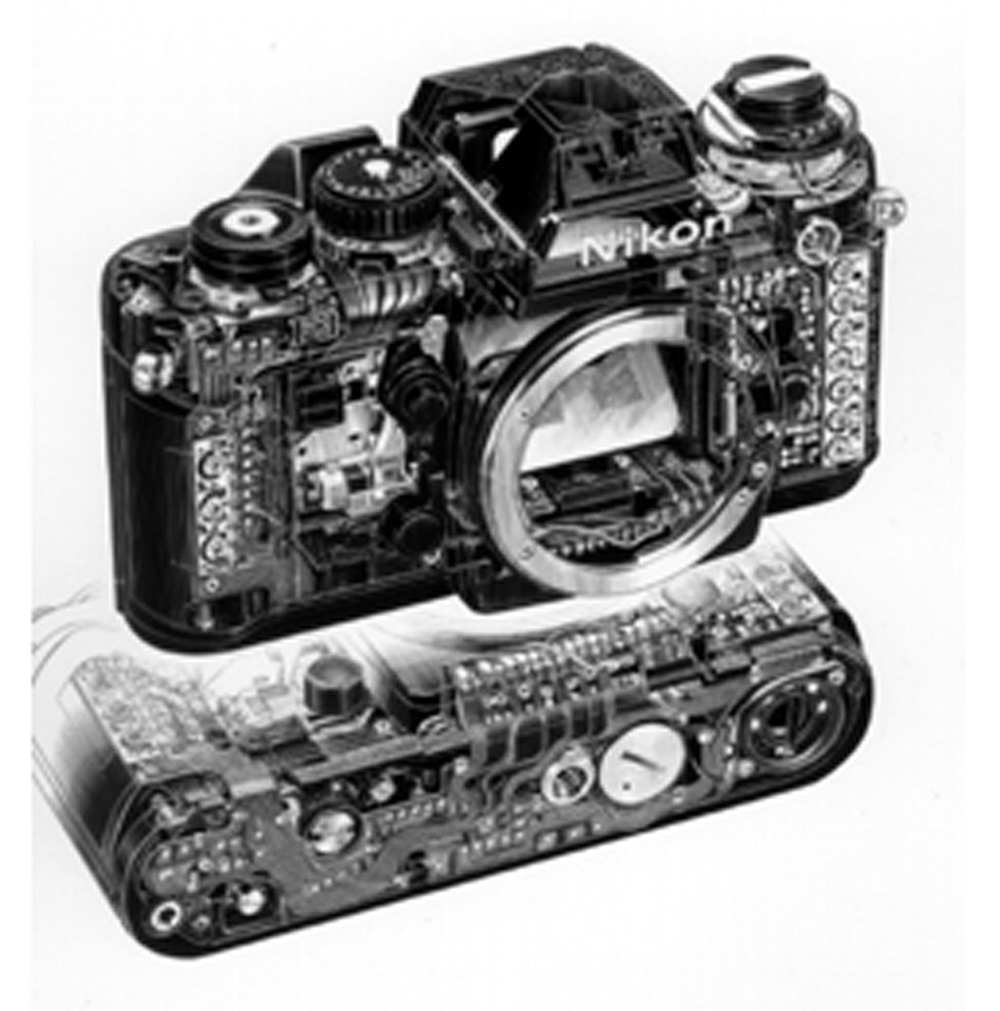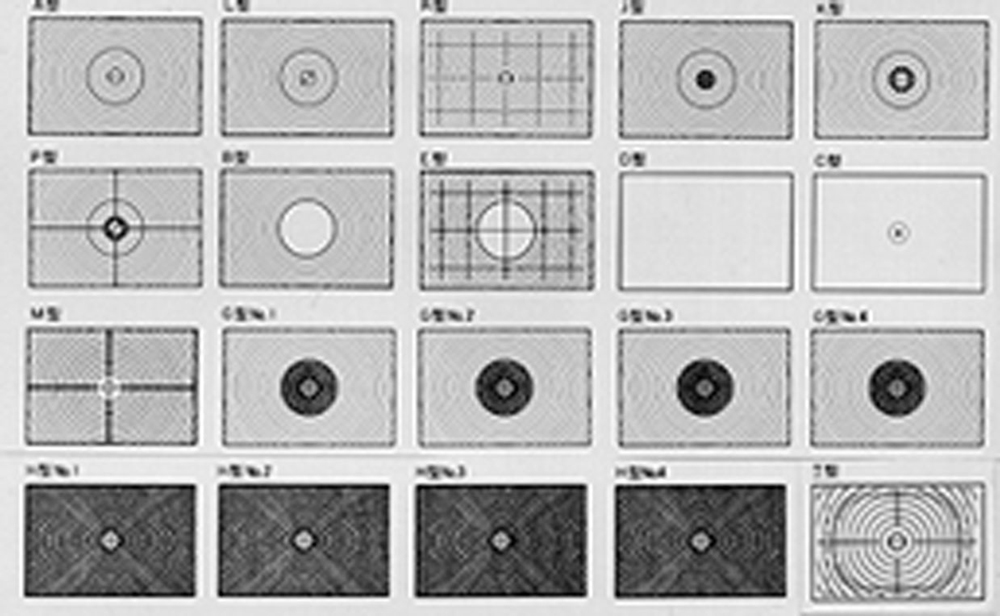 Adoption of the liquid crystal display (LCD) was one of the innovations. Among the cameras by Nippon Kogaku, F3 was the first to provide exposure data on the LCD.
The shutter speed control, the heart of the exposure control mechanism, was based on the digital circuits which provided the control on the basis of the constant normal frequency of quartz (crystal oscillator). The accuracy of the shutter speeds in the low range in particular was increased considerably.
The shutter release button was the electromagnetic release type, which eliminated the junction (engagement) with any mechanical parts of the shutter and made possible the electrical interlock with the motor drive.
Consumer-oriented marketing
As an increasing number of cameras with electronic controls, compact design, and lower prices were introduced, the number of users increased also, and at the same time the market competition among manufacturers became intense. We planned the sales strategy described below based on our understanding that, in the saturated camera market, we could not have an advantage over competitors by relying only on the fact that high-end SLR cameras had a broad base of support among users:
Broadening the product line
Increasing the sales promotion and advertising activities
Reinforcing the training programs for sales personnel and improving the customer service organization
We then worked to promote consumer-oriented marketing.
Among the points of our strategy, the sales promotion and advertising activities were especially accelerated starting around 1980 when the domestic sale of Nikon EM was started.
Consumer-oriented product strategy
With the completion of 4 different product lineups of F3, FE, FM, EM targeting different classes of users, our brand image changed from "Nikon, the manufacturer of high-end SLR cameras" to "Nikon, the all-round single-lens reflex (SLR) manufacturer".
Stepping up sales promotion and advertising activities
As Nikon FM, FE and other compact and/or lightweight models were released, different sales promotion and advertising activities were implemented according to the regular users of the different models.
The new catalog for FE was well received because of its urban-oriented editing using the jazz musician Sadao Watanabe as image character model.
In March 1975 Nikon World was published as a revised edition of the Nikkor Lens Handbook. This was renamed New Nikon World in September 1979 and presented to the Nikon camera users as a guidebook to make full use of Nikon SLR cameras.
In January 1979, the monthly magazine Top Eye was published focusing on the camera circles in the senior high schools across the country for sales promotion of FE and FM.
In addition, a total of 100 meetings and events were held every year including new product exhibitions, product demonstrations, indoor picture taking events, and camera inspections.
Furthermore, as the lower-priced model Little Nikon = Nikon EM was brought out, the sales promotion and advertising activities were completely modified to actively conduct a campaign to improve the image of Nikon, so as to increase its appeal for young people.
In August 1980, the magazine-like guidebook EM IMAGE was published as a sales promotion of Nikon EM. In conjunction with this, the EM monitor campaign was started to invite student monitors and group monitors of junior and senior high school camera circles, and the number of applicants from all parts of the country exceeded 80,000 individuals and 3,000 schools.